Resin Bound Paving
Resin bound surfaces are created by mixing a two-part polyurethane resin into a fine aggregate. This is then trowelled onto an existing surface giving you a strong, hard wearing but attractive surface. What makes resin bound so unique is that it can be used indoors or out, you can create patterns and it can be any colour you like.
Not only that, but on outside surfaces, resin bound stone is porous – making it SUDS compliant.
We only use resin that has been approved by the BBA.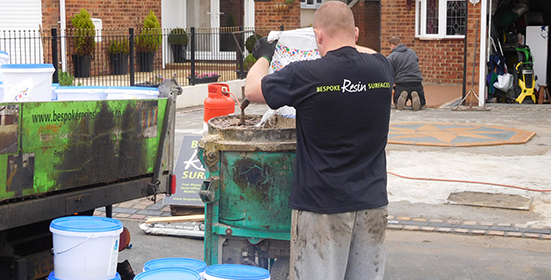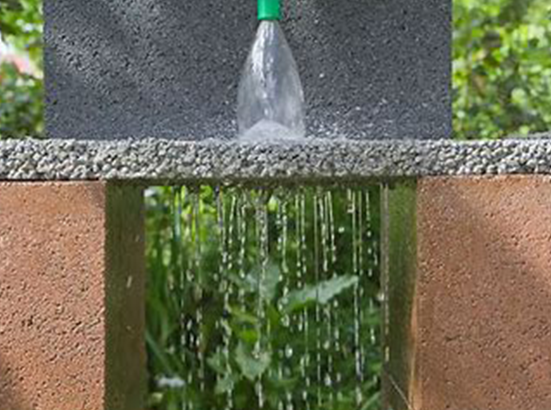 SUDS
SUDS stands for Sustainable Urban Drainage System. It is a regulation from The Environment Agency to help prevent surface water and flooding on hard standing ground. Natural ground surfaces like soil and lawn are permeable and allow water to drain through.
Traditional concrete or tarmacadam surfaces are not porous and do not allow water to drain away. By installing a porous sub base and overlaying with resin bound stone, surface water is allowed to drain away or run off to 'soft' areas.
Care and Maintenance
Some companies say that resin bound surfaces are maintenance free, unfortunately this isn't the case as all surfaces require occasional maintenance.
Resin bound surfaces are easy to maintain, and only require a gentle clean a couple of times a year, normally using just soapy water and a broom. This will get rid of any surface dirt and without the need for a jet-wash.
You can find our recommended care guide below.
After Care & Maintenance (Bound)
We have taken care to ensure that your Bespoke Resin Surface is of the highest standard and quality. However, it will last longer and look better if you follow a few maintenance procedures:
Any vegetation which sits on top of your new resin surface will need to be cleared away. The design of resin surfaces allows water to pass through in order to comply with the new building regulations "Sustainable Drainage Systems" (SUDS) if this is not done not only will the vegetation block water flowing through in time it will taint the look and alter the appearance.
Regular cleaning will also keep your new resin surface standing out from the rest. However, you must be careful in how you do it and what you may use. Periodic hosing is advised to wash away any debris and a stiff broom to sweep anything away from the surface.
From time to time you may notice weeds or moss growing on the surface these are not a problem when treated correctly. Pull out any weeds growing as these will be on the surface. For anything that's more stubborn like moss use only pathway cleaners designed for this purpose. Oil based weed killers should NOT be used under any circumstances as they may soften and damage the resin.
Bear in mind the surface is bound stone, anything that's heavy or dragged across the stones surface will need to be protected. Common uses for when this are in the cases when skips, scaffold poles or car jacks are introduced to the area. To reduced stress or damage these may cause please use a thick wooden board to dampen the impact or pressure that the item will cause.
Any oil or fuel spillages are advised to be cleaned quickly as possible with plenty of cold water to prevent the resin softening
Winter Months
Should you wish to remove this a plastic snow shovel is ideal for removing the top layers of snow. Avoid using metal spades and shovels to remove snow as this may scratch the top layer of stone.
Salt can be used after removing the top layer of snow, however when snow and ice thaw this should be given a good rinse after to allow the salt to pass through the gravel. DOT NOT USE ROAD GRIT as this will clog the draining capability of your resin bound gravel.
NEVER use solvent based de-icing agents these again will react with the resin.
Important points to consider when cleaning
Water from a hose with a stiff broom is best course of action for general cleaning.
Should there be a stubborn mark warm tap water with a mild detergent such as washing up liquid can be used.
If anything oily is spilt on the surface, methylated spirits can be used with a cloth, afterwards give the area a good rinse.
A pressure washer may be used at a distance of around 200mm from the ground on a fan jet setting (up to 150 bar rating) to wash away any debris which has settled in the gravel.
Should there be any problems with cleaning a specialist cleaner should be contacted for the best advice.
HAVE A PROJECT – CHAT TO THE EXPERTS FIRST!
Contact us today for a free no obligation consultation quote